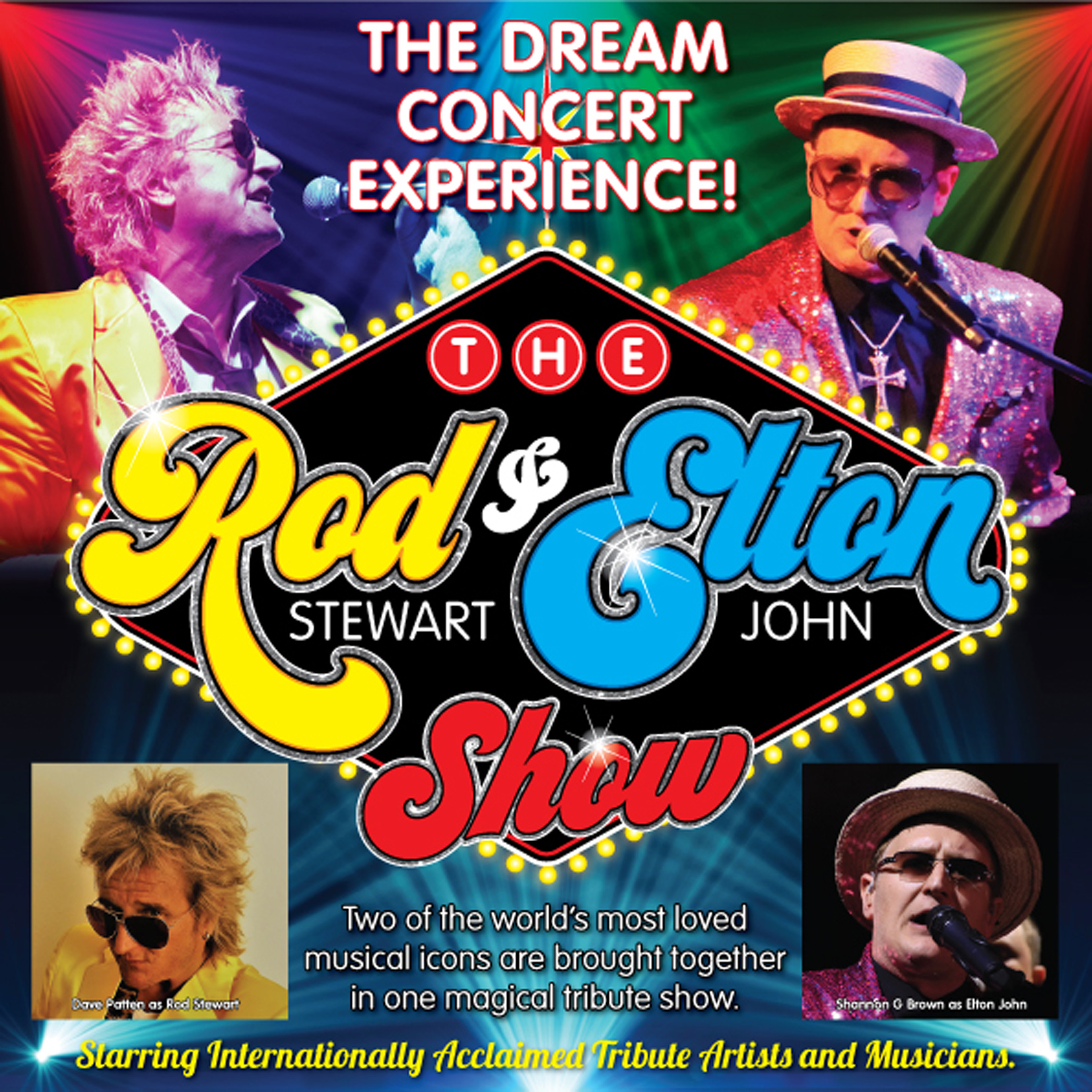 "Rod & Elton together in a "Dream Concert Experience"
Two of the worlds most loved musical icons of all time are brought together in a truly magical tribute show, Rod and Elton, live on stage at last! Described by many as the "Dream Concert Experience" this show is hugely popular and continues to sell out everywhere!
Internationally acclaimed touring artists Dave "Rodney" Patten and Shannon G Brown become Sir's Rod Stewart and Elton John with amazing vocal and visual performances of all the big hits. Celebrate Rod and Elton's masterpieces from five decades at the top all backed by a 6-piece band of incredible musicians in this fully produced 2-hour show which is also accompanied by Multi-Media visual screens
Maggie May – I Am Sailing – You're in My Heart – Tonight's the Night – Hot Legs – Do ya think I'm Sexy?
Rocket Man – Tiny Dancer – Benny and Jets – Crocodile Rock – Saturday – Rocket Man & more … Including some magnificently crafted Rod and Elton duets Dave "Rodney" Patten as Rod Stewart; A seasoned International touring artist also known for sharing the stage with touring acts from Las Vegas. Dave masters Rod's distinctive raspy vocal style and range with truly amazing accuracy. Get ready to meet a real character on stage as Dave transforms with all the cheeky bravado of Rod himself. Add the trademark hair style, outfits, and signature moves, audiences everywhere delight in the experience of a real Rod Stewart Concert.
Shannon G Brown as Sir Elton John; Is an international recording artist and former member of the famous "Ten Tenors" singing sensation, recording at Abbey Road studios in London and touring the world with the group for many years. Shannon has gained a popular reputation for his amazing renditions of the Elton classics with all the style, glitz, glamour and exception vocal and piano ability!
Together they are Rod and Elton in concert! This is a truly unique double concert experience not to be missed!
Visit the Rod and Elton Show www.facebook.com/rodandeltonshow.com.au