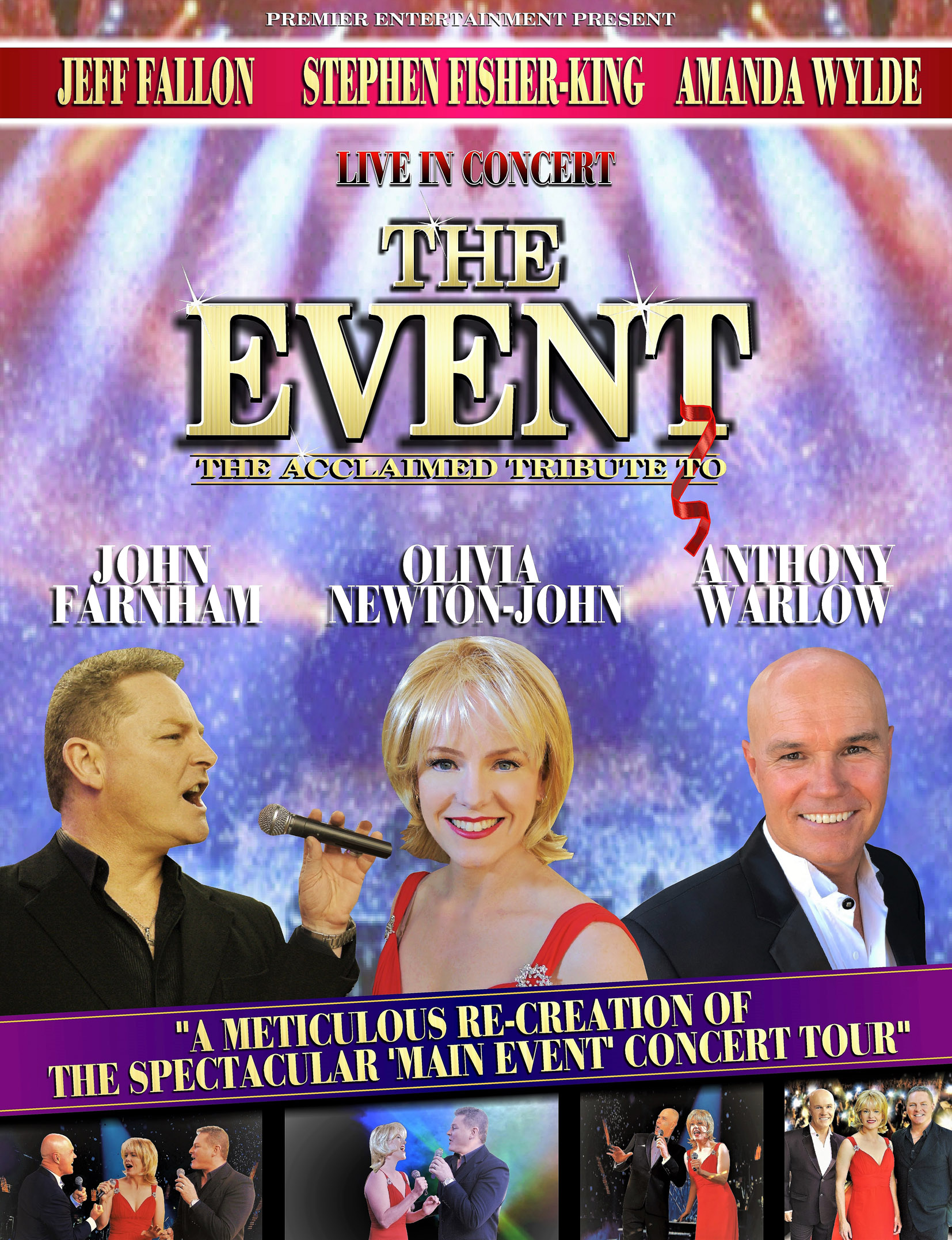 Three of Australia's most talented singer/ performers join together to present this fantastic production, THE EVENT. This is a celebration of THE MAIN EVENT that was a joint concert in 1998 by John Farnham, Olivia Newton-John and Anthony Warlow.
Jeff Fallon plays the role of John Farnham in this production and does it most convincingly. Fallon is one of Australia's best voices. He has worked in the US and Europe as well as all major venues throughout Australia.
Jeff has been performing in several production shows including the John Farnham Experience, one of Australia's best tribute shows. So he is no stranger to playing the roll of Farnham! Just recently in 2014, he performed the roll of Del Shannon to packed houses including The State Theatre in Sydney, the Crown Casino in Melbourne, Burswood in Perth, Q Pac in Brisbane as well as many regional theatres and major clubs. Jeff is also a MO and ACE Award winner.
Amanda Wylde plays Olivia Newton-John and she also has performed in some of Australia's best shows and showbands such as Frogs On Toast, Legends in Concert and False Idols. Amanda is a born entertainer, a fine dancer and excellent singer that does great justice to singing Olivia Newton- John songs. Amanda is a natural performer and has had a lot of experience in impersonations including Connie Francis, Dusty Springfield, Dion Warwick and Michael Jackson and also does a great impersonation of Julie Andrews in Sound of Music.
Last and certainly not least is Stephen Fisher-King who plays the part of Anthony Warlow. Stephen is a great singer, fantastic performer, well known and popular on the Australian entertainment scene. He is a multiple ACE Award and MO Award winner for the 'Male Vocal Performer of the Year' and 'Australian Club Performer of the Year between 1996 & 2005. The Event has a full live band backing them using some of Australia's finest musicians.
The show delivers great dynamics as it moves from featuring nice solo songs of these artists, moving rendition
of duet songs, and also highlights trio song. This is perhaps what gives this production that special edge.
The audience will be treated to songs like Age of Reason, Phantom of the Opera, You're The Voice, Hopelessly Devoted, You're The One That I Want, This is the Moment, Every time You Cry, Summer Nights, Please Don't Ask Me and more.
The Event guarantees you a truly enjoyable and memorable show.