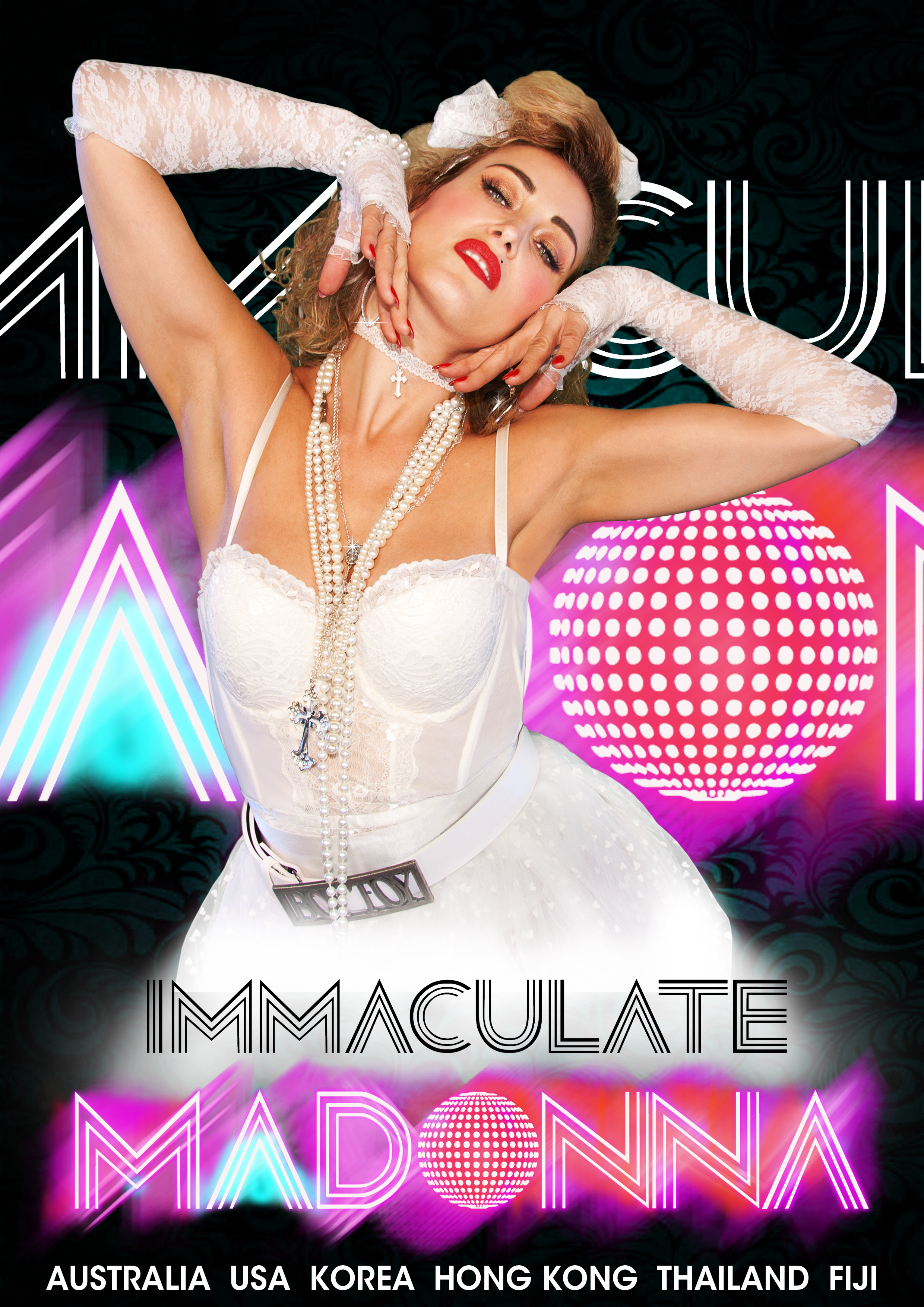 Dedicated to the Queen of Pop,  IMMACULATE MADONNA pays tribute to the global icon
that is Madonna.  Recreating the greatest female artist of all time and featuring the most
popular dance anthems for generations, unmatched stage charisma and some of the
worlds most iconic costumes!
IMMACULATE MADONNA stars LEONIE LEE as Madonna and is produced by BEREK BAILEY
(100% KYLIE – World's No.1 Kylie Show & endorsed by Kylie Minogue).  Seasoned entertainer
Leonie Lee encapsulates the very essence of Madonna right before your very eyes.  With her
uncanny resemblance, that unmistakeable voice and incredible star quality, this power
packed performance will have you thinking the 'Material Girl' herself has just appeared on
stage.    IMMACULATE MADONNA has been meticulously produced to bring audiences the
very best of Madonna's extensive and prolific career.  Replica costumes include items created
by Madonna's original costume designers and have been sourced from all over the globe.
Australia's  best dancers bring to life Madonna's vast catalogue of choreography, backed by
live musical arrangements spanning 13 albums and 10 world tours.
ALL THE GREATEST HITS!
Vogue                                 Like a Virgin                       Like a Prayer
Material Girl                     Music                                   La Isla Bonita
Express Yourself               Holiday                               Living for Love
Into the Groove               Hung Up                              Borderline
The cast includes a troupe of professional dancers and musicians who have collectively
performed with prestigious production such as Legend In Concert, We Will Rock You,
Saturday Night Fever, The King & I, Cirque Adrenalin, TV Week Logies, Sydney Olympic
Opening and Closing Ceremonies and The Singing Bee.